October 6, 2017
Our next trip was to Montenegro. Here's a sample of responses we got when telling friends and family:
"I can't even pretend to know where that is."
"Oh, back to Africa?"
"Weren't you just in Central America?"
"I hear Spain is nice and warm this time of year."
"Oh. Sounds nice." (Blank smile)
"Do you have to fly into Mexico City to get there?"
"Ummm, why?" (Our response: "Do you know where it is?"). "Ummm, no."
"James Bond movie, right?"
There was only one person who generally knew where it was, as well as its marred history as the former Yugoslavia.
So, let's tackle the most eloquent response: "Ummm, why?"
Here's why:
Dramatic mountains
Ocean with crystal-clear water
Culture
History
Beaches
Warmth
Exotic (or, at least, sounds that way)
Check, check, check, check…This list creates what most people would typify as a dream vacation.
And for us, it also met the other critical items:
Wine
Bicycling
Wine
Good, and even great, hotels. The kind that are unique, but unique with white sheets and not bedspreads. There's a big difference within the "unique" category that is too-often overlooked.
Wine
And it was relatively easy to get to. After flying into Dubrovnik, we took a short, looonng ride to Kotor. Short, because the distance wasn't significant, but looong, because of the beautiful winding roads and two border controls (Croatia is the EU; Montenegro is trying to become part of the EU). The only mildly unpleasant part was the Spandau Ballet's greatest hits on the driver's radio. (Who even knew they had more than one song?)
We arrived just outside of historic Kotor, on the seaside. At our destination, Forza Terra and Forza Mare, we were greeted with an almost-unbelievable idyllic location on the water.
It's an extension of the Adriatic, but they call it the Port of Montenegro and, further inland, the Bay of Kotor, because it forms what looks to be a giant lake sitting at the foothills of the mountains.
Forza Terra and Forza Mare are about a kilometer apart, with Terra being the new construction, and Mare the original hotel. Both are lovely, in a Balkan way—beautifully detailed, with a few odd additions.  Our third-floor room with an outdoor terrace overlooking the water at Forza Terra is one of the best hotel balcony views anywhere.
The owners were straight out of Saturday Night Live's "Two Wild and Crazy Guys," and all the staff was Serbian (because, as the owners told us, Montenegrins don't like to work). Both hotels were situated on a quiet little road a few kilometers from Kotor, where older men spent their days fishing
and parents walked with their kids against a jaw-dropping background.
One of the best parts of staying at the Forza properties was the dining experience. They both have these incredible patios right on and over the water, making for two of the most memorable meals we've ever had—even though Montenegrin food (much like Croatian) would probably not often be picked as someone's last meal.
Another great feature about the country of Montenegro is that everyone is fluent in English. It's not that we're Neanderthal tourists (well, sort of), but in Croatia and Montenegro, native speakers are not fond of using vowels in their words. To us, words without vowels resemble grunts and unpleasant sounds when we try to speak, so English-speaking was a gift for us and them.
The following two days gave us some of the best bicycling in recent memory (since long term memory loss is now officially settling in to our wine-addled brains). Our first day was about a 50-kilometer ride around the Bay of Kotor with mountains on one side and the sea on the other, with only this tiny road and a few houses in between.
We cycled the entire Bay of Kotor, through historic seaside towns such as Perast. Near Porto Montenegro, we hopped a short ferry ride to head back to Kotor. Along the way, we were greeted by the townspeople and we got to peer into windows, walk through churches, and sit on seaside balconies drinking wine.
Kotor itself is a magical small World Heritage site city… When there aren't two cruise ships parked in the bay. (After a few days, we started describing it as a "Pristine Balkan fjord with 75,000-passenger ships docked outside the small city, which is equal to the population of the entire country." OK, maybe a slight exaggeration, but it didn't feel like it.)
The old city of Kotor is all windy streets paved in marble, worn from the millennia. The streets are filled with great local shops as well as, of course, those catering to the increasing number of tourists.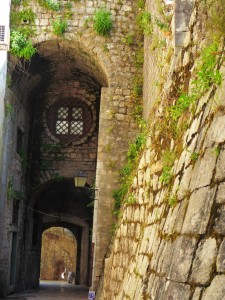 Now let's get to the wine. Most people know Croatia has wine, albeit not the best you've ever had. And no one even pretends to know anything about it. We did not, however, know that Montenegro also has wine. It's primarily harvested on the border shared with Albania, and they don't export any of it. The service staff at the hotels tried to be very helpful, explaining varietals and grapes, and growing, and blah blah blah, which is sort of like a primitivo or blah blah blah.
As a general rule, we prefer the "trial and error method" to conversation.  And it didn't take long to find several great options. (The one downside is that the sparkling wine from Montenegro is not good, and it's expensive to boot. Croatia makes pretty good sparkling varietals that became our go-tos in a pinch.)
Our only takeaway? Krstac = white wine (not our favorite, but our friends loved the rose).
Vranac = dry red = good
It seems the red wine is described much like the country: Dark, complex, and accessible.
After several days around Kotor, we set out for Budva, further south down the coastline by bicycle. Montenegro is not a country that uses bicycles like Italy or France, so when we mentioned bicycling to Budva, the people we met said "Oh, it's an easy 30-kilometer ride."
Of course, none of them had ever been on a bicycle or anything without a motor, and they didn't realize we were taking the squiggly back roads up and over the mountains rather than the fast expressway. It was not an easy one to two hours. It was five. And it was so worth it.
We wouldn't have traded one gasping-up-a-hill moment for a ride in any car. As we continued up and up with no end in sight, we had the greatest views as we worked our way to the very top.
First, it was looking back at Kotor and the bay from the highest possible position for a photo before the road takes you up the other side of the mountain (see the feature image). On the other side, we found ourselves climbing so high we were even looking down at the landing airplanes. Our next views were down the incredible coastline as we went up and over the last hills to Budva.
Maps, keep in mind, are directional indicators only. There are no maps that say, "Don't take that road, dumbass, it's a 12% grade hill and the word 'paved' means 'third-world-country paved.' "
At the top of one difficult hill, we stopped in a small village to try to begin breathing again. On a balcony from a nearby house, an older woman smiled and waved. We said hello, and she simply nodded and called to someone inside. Shortly after, her son came out the balcony and said "Hello, my mother does not speak English."  He asked what we were doing, engaged in conversation about the area, and offered us food or water. It was then we saw the beautiful little baby smiling and waving in her grandmother's arms. He introduced his one-year-old daughter and his mother.
Could you ever have that experience in a car?
After the up and back down, we met up with the more-traveled coastal road. Again, Montenegro has not embraced bicycling like the rest of Europe, so the coastal road included some precarious tunnels, all without bike lanes… Or lights.
But now I guess we're just being picky.
We had one particularly hairy walk on the side footpath with a drop straight to the water, followed by the complete darkness of an enclosed tunnel (lit only with our smart phones).
Then we arrived in Budva.
There are two distinct areas that make up Budva. It, too, is an old walled World Heritage City perched on the water. But what's cropped up on the seaside beyond is a collection of some incredibly bad examples of architecture from the 70's and 80's influenced by the Soviets. I don't know if you've heard, but the Soviets are not terribly thoughtful or romantic when it comes to building. They love the concrete, absent of any detailing.
Except for the pitch-black tunnels with cars roaring past and the last stretch through the "new" Budva, it was the perfect bike ride. It was made even more perfect arriving (albeit sweaty, smelly, tired, and thirsty) at our next hotel, the Aman Sveti Stefan.
Aman hotels provide no shortage of wow factor, and in this case, they purchased an entire island with its medieval village. Yes, they bought the whole island, and the whole village (technically, it's a 30-year lease). Then they purchased villas right on the Adriatic with views of the island village. One was a summer home for the King of Serbia transformed into a 6-room hotel. The other became one of the biggest hotel spas we've ever seen. No question, top-five hotel experience. Ever. Anywhere.
We split the difference, first staying a few nights on the beach, followed by a few nights on the island, including wandering around marveling at the details.
There is no number of superlatives that can describe the hotel and experience, from waking up and walking onto your terrace on the Adriatic, to waking up and walking out onto your terrace from your room on top of the island—with a panoramic view back and Budva and down the coast. In both, the sunsets are not to be missed.
During the days, we went further down the coast and basically bicycled up and up and up to get some of the best views of the Montenegrin coastline, or we hiked up a stone path that took a monk about 10 years to make.
We walked through the small churches that are seemingly everywhere, each with demonstrative cemeteries adorned with large photos of the deceased.
After seeing all our travel pictures, almost everyone became intrigued with this little country—the same one that they'd previously thought was probably part of Spain.
The Balkans is a magical place, even more so when you learn through your travels about their recovery from a violent, atrocious war that took place pretty much right under our modern-day noses.  (The Balkans are loosely described as "ex-Yugoslavia (minus Slovenia) and Albania." Thus, the region includes Serbia, Bosnia and Herzegovina, Montenegro, Kosovo, Macedonia, and Albania.)
If you venture to Montenegro, combine it with a visit to Croatia. Our favorite part is the southern part of the country, from Korcula on the Pjelsic Peninsula back to Dubrovnik. From there, you can continue on to Kotor.
In Montenegro, there's really no need to venture further down the coast after Budva. The villages are a little sparse and uninteresting, and by then the dramatic coastline seems commonplace.
We had been to Croatia, including Dubrovnik, a few times in the past, but it was still well worth it to spend our last day and night there. The two best options for hotels are to either stay inside the city walls (the Pucic Palace is the most known), but our favorite option is to stay about a kilometer or so outside of the city (and the Ploce gate) and walk along the water with views of the old city. Villa Dubrovnik was our choice this time, and it did not disappoint from its dramatic entrance to its strategic location clinging to the seaside hill.
From there, we strolled along the small road approaching the old walled city of Dubrovnik, and entered through the Ploce gate for a much-needed glass of sparkling Croatian wine at the Pucic Palace's wine bar in the walled city.
The perfect trip ending.