December 9, 2017
All about the Basque.
When it rains and you're caught in the narrow streets of San Sebastián, Spain, should you buy an umbrella? Or should you simply go to the bar and drink Cava?
In case it was really a question to begin with, the answer became even more clear when a tiny white dog came prancing down the street on his owner's leash, looked up at us huddled in a doorway, then proceeded to pee on the umbrella stand and walk into the bar's entrance.  I think that's clear enough.
The Basque region is a small section made up of Northern Central Spain and southwestern France. If you draw a bit of a circle around Bilbao, San Sebastián, and into Saint-Jean-de-Luz, down to the foothills of the Pyrenees in France, you're getting pretty close.
Don't confuse the French Basque from the Spanish side. Even a mere 12 kilometers away from each other, they're two different worlds. The Basque are small in population, but fiercely loyal to their culture and the Basque language.
And don't call them Spanish. The people living in Spain are not Spanish, nor do they speak Spanish. Perhaps they are Basque, or maybe Catalan, or Castilian.
Everything clear now? Well, it won't be once you hear the Basque language. It pre-dates the romance languages; it's closer to Hungarian and has a distinct love of the letter "x." I had perfected my "menu Spanish," and when I was handed a Basque menu on our first night in Bilbao, I didn't stand a chance.
Then we were handed their English-translated version.
Sometimes the very best part of eating out all over the world, is getting the "translated" version of a menu to see how things are interpreted. I think our first night in Bilbao wins the "lost-in-translation" prize.
All four of us were scanning the translated menu (following some happy-hour wine and pre-dinner Cava) when I saw it and actually snorted.
Underdone pigeon.
What followed was a nearly five-minute laughfest, and a lot of speculation about what that actually meant. Simply carried through a warm room? Plucked off the street and tied down on a plate? We really thought we were funny.
Thankfully, no one was curious enough to give it a try. And from there on out, every pigeon we saw on the street was dubbed "underdone pigeon."
This trip to Spain has three distinct elements:
The Cities: San Sebastián and Bilbao
The French Basque: The area from the Bay of Biscay (and Saint-Jean-de-Luz) to the foothills of the Pyrenees
The Spanish Basque into Rioja: Over the mountain pass, through the farm fields, along the Camino de Santiago and into the Rioja wine region, about 30 minutes from Logroño
Here are the highlights
Bilbao:
Do's:
Spend one–two nights. 
Stay in a hotel across from the Guggenheim, either the Gran Domine or the Miró.
If you stay at Gran Domine, spring for a 6th floor room with a terrace and view of the museum.
Don'ts:
Spent more than two nights in Bilbao.
Eat at a Michelin star (Zortziko is the exception). Save that for outside the city/San Sebastián.
Just stay in Bilbao and drive to San Sebastián for the day. Make sure to stay in San Sebastián, too.
San Sebastián:
Do's:
Walk up the hill to Monte Urgull and take in the views from all sides.
Walk along the Pasealeku Berria along the water at sunset.
Follow the tiny white dogs. They're everywhere, and they're usually right.
Try a more "local" and less touristy popular pintxo bar, like Larra, and watch all the old locals come in and have drinks poured for them without them saying a word.
Try the cider the locals seem to like so much, if only to watch the bartender pour it from three feet high.
Don'ts:
Just eat pintxos off the bar; order a few things from the menus.
Just eat at pintxo bars. Try Topa Sukalderia in Gros for a refreshing alternative, also from the chef at Mugaritz.
Eat at Ganbara's downstairs restaurant. The pintxos (and croquetas) are much better upstairs.
If you ignore the former, at least avoid ordering the cod cheeks, unless you like eating snot.
Eat too many croquetas at Ganbara. You will get sick.
Expect lunch before 2:00.
Peak too early. Dinner later is better.
Miss that post-Cava nap. You need to be rested for dinner.
The Country that is Basque:
Sandwiched in between our stays in Bilbao and San Sebastián, we attempted to bicycle off all of the pintxos, taking in the countryside and learning more about the Basque culture.
(This time, our mode was a trip through Backroads instead of attempting it on our own. We travel with both Backroads and Butterfield & Robinson because they make it so easy, taking luggage from hotel to hotel while we spend the day riding and exploring.  Our guides for Basque Rioja,  Hugo and Charles, made the trip perfect even with the rain.)
The starting point was French Basque, in between Biarritz and Saint-Jean-de-Luz, two Bay of Biscay beachside towns historically for European royalty.
When you go to the Basque region, it will rain. It may rain for an hour; it may rain for 30 days. It doesn't seem to matter the time of the year. And when you're traveling by bicycle, you tend to start getting obsessed with the rain. Of course, after two days, it really doesn't matter…Because you can always get in the van, or find a bar with Cava.
We opted to stay in Saint-Jean-de-Luz the day before our bicycling was to begin. We walked through a light rain towards the charmingly small city center, arriving 10 minutes later in a heavy rain that literally turned into cats and dogs (mostly dogs). At that point, it's best to abandon the idea of romantically strolling under a personal umbrella and instead find any bar with big umbrellas to settle beneath. In our case, we watched an extremely wet wedding party make their way from the church to the reception restaurant, while drinking mediocre red wine that tasted fantastic considering that the alternative was walking in the downpour.
(Note: Saint-Jean-de-Luz and Biarritz are both beautiful towns, although Saint-Jean-de-Luz is much smaller. Biarritz has a few bigger-dog hotel choices, like Hôtel de Silhouette and Hôtel du Palais, while your choices in Saint-Jean-de-Luz are really just Parc Victoria, a charming restored property that looks more like a storage house for French Art Nouveau antiques, or the Grand Hôtel).
After a charming and incredible dinner at the local-filled Kako Etxea (Chez Kako),
partaking in the first of eight days worth of Ibérico ham and cheese, we were reading for biking, rain or shine.
And we got both.
We met some beautiful horses and saw the rolling hills that gave way to a downhill to ride along the Bay of Biscay,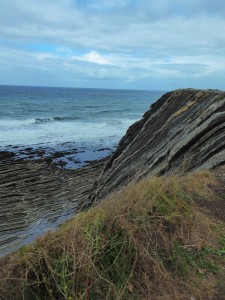 which was spectacular because it wasn't raining.
The incredible first ride took us back to Saint-Jean-de-Luz in the Atlantic breeze (or what we just call "wind") and sun.
We should have stopped there, but we pushed our luck by heading south to the Pyrenees and the Col d'Ibardin, only to find the rain we thought we'd missed. Once we caught up to it, it was time to head back to hot showers and happy hour.
From the Bay of Biscay, we headed almost straight east, hugging the border between France and Spain, and were introduced to the famous Espelette pepper products that we can no longer live without. After a charcuterie-and-cheese lunch in Espelette (if you're keeping track, this makes day two of ham and cheese) and, of course, wine, we waited until the rain had somewhat subsided and headed out on the Pas de Roland, which now has earned a place on our list of top bike rides in the world. We continued on to Bidarray and our hilltop home of Auberge Ostape. The hotel has a punishing driveway from hell, with a grade of 20–25%, just to make sure you endure as much pain as possible and earn your dinner and wine.

The countryside riding around this area of French Basque is every different shade of green you can imagine (I guess the rain isn't all bad). It's filled with rolling hills, and being greeted by the farms, horses and animals throughout a ride is incredibly relaxing and bucolic. Every little town had a pelota court (something that resembles a more open-air version of racquetball), and every hillside had what I assumed were tons of cardboard cutout sheep.
How could real sheep be up that high on the hillside? Then they started running toward the cardboard cutout cows. Go figure.
We ended the day not far from our hotel, in the adorable little town of Le Chene, for one of the many, many dinners that included hake (a fish similar to cod or haddock). But, hey, it's better than underdone pigeon.
Alas, it was time to head over the mountain and get a sense for the differences in Spanish Basque.
It was almost like crossing a line in the sand. We went up and over the mountains from Bidarray toward Pamplona, Spain, to start our bicycling. Right away, the green lushness gave way to a drier warmth.
We paralleled the El Camino de Santiago, coming across all the people making pilgrimage with their giant packs, following the steps of St. James on a 30-day walking journey. It's a trek of 500 miles between France and Spain and into Portugal, cutting through a section from southern France to northern Spain. After only a little while, it became easy to recognize the yellow arrows and shell symbols that point the way for the hearty Catholic pilgrims.
Our first riding day back in Spain coined the phrase "the rain in Spain is mainly in France," as we were greeted by hot, much-needed sunshine on the open plains. After our lunch in Torres Del Río, we worked for the copious amounts of wine that we'd soon be drinking in Rioja. We were quickly greeted by proper "hills"… And climbs of about 700 meters (this is where my "Get Out of the Car" theory is seriously tested).


It was so worth it when we got to the top of Sierra de Cantabria and saw all of Rioja sprawled out in front of us.
Let the wine really flow like water.
We bicycled to Laguardia and beyond toward Elciego. After we passed up and through Laguardia, a beautiful little hilltop town in the heart of Rioja filled with winery-tasting rooms, my constant drumbeat of seeing the world by bike was vindicated.
The Marqués de Riscal winery and hotel was our destination. The hotel was designed by Frank Gehry in the spirit of the Guggenheim Bilbao. Originally designed as an office, they decided midstream to create a winery-hotel instead, and wanted to create it as a hallmark in all of Rioja.
When you're on bike, your first view coming over and down a hill is of the building's gleaming, wild curves and colors. By car, it would be arresting. By bike, it's astonishing.
But is it appropriate for the landscape? You can imagine the debate between a few architects and designers in our group. It definitely accomplishes its goal of grabbing attention. When you're a hotel guest, you quickly find that on this commission, Gehry was all about the exterior "wow," and not about the guest experience inside. If you want to learn what not to do for consumer-based interior spaces, visit Marques de Riscal. If you want to learn what to do, visit sheadesign.com.
How's that for a shameless plug?
Enough with the design review. Our stay in Rioja was incredible, filled with tours and tastings including the big-dog winery at Marqués de Riscal,
where we visited the cave carrying every vintage ever made by the label. Gehry got to drink a 1929 vintage from the year he was born in celebration of his work. Sadly, we just got to take pictures.
Of course, we got to sample some of the small-dogs in tasting rooms, and took tours of the caves under the charming Laguardia. The Rioja Gran Reserva from Bodegas Carlos was worthy of shipping home.
The bicycle riding around this area takes you up and down (literally. Everything is up and down; there is no "flat" to be found here) among vineyards and to hilltop towns that dot the area, like San Vincente. And all roads lead back to the Gehry.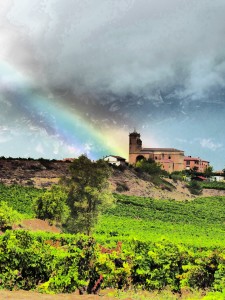 We dragged our very tired bodies back every night to recoup and re-energize with–you guessed it–more red wine.
So, in a Cliff's Notes version of the trip:
Cheese, pork (sausage/ham), wine (Irouléguy in France), wine (Rioja in Spain), underdone pigeon, death by croqueta, running cardboard cutout sheep, cheese, cheese, pintxos, cheese, corn nuts at Bodegas Carlos, Espellette peppers, rain, wind, sun, get out of the car, and see the world by bike.
Epilogue:
It was easier to fly through Madrid to come home, and you should never fly directly through a city like Madrid without spending at least a night. We took our own advice. In contrast to the small cities in Basque, Madrid is desperately sprawling and vast. It's really only walkable in sections where it looks like it should be a five-minute walk, meaning that it will turn into 30. The good hotel options are the more neighborhoody Urso and the grand-dame Principal Madrid. This time, we combined a classic restaurant choice with a brand-new, nationally renowned chef's joint: Casa Salvador
and Bibo Madrid, by the gifted Dani Garcia. Both made it worthy to note (and make) the Madrid stopover.